When you are a homeowner, you take pride in your home's curb appeal. You might not be HGTV-perfect at landscaping, but you do your best. Your bushes are trimmed, and your lawn is nicely mowed. But the one thing that you can't ignore is the peeling paint of your siding! Gross! What do you do? Well, you could rent a scissor lift, buy lots of paint and supplies and spend A LOT of time sanding, cleaning, and scraping before finally getting to the painting. And there is SO MUCH painting to do! This is not your best or most cost-efficient route. So how do you improve the look of your house?
It may be time to consider new vinyl siding! We can hear you say, "Wait a sec. Vinyl siding looks cheap and homogeneous. My house will look like everyone else's, and it will lose its unique style!" To that, we say, keep reading. We've got some great reasons why you will love getting new vinyl siding on your home.
1. Save on Overall Costs
We talked about painting in the introduction, but sometimes that wood siding just can't be painted anymore and needs to be repaired and replaced. Traditionally, using wood siding for your home can cost up to $8,000 per 1,000 square feet. That pricing could be better for most people, including most home construction companies.
Meanwhile, installing vinyl siding can save you up to $1,000 for the same 1,000 feet of square footage.
2. Color
Vinyl siding has a vibrancy unmatched by paint. Because the color is throughout the vinyl, you don't have to worry about its color chipping or scratching down the line.
3. Style
You can find a style of vinyl that matches what you had in wood and will last much longer! You can get vertical panels, scallops, beaded looks, and even wood-like shakes! When choosing vinyl siding, you are free of the typical horizontal panel looks.
4. Less Maintenance
Vinyl siding can provide you with a durable and maintenance-free option. It's designed to endure the harsh elements and keep away termites. The annual or biannual power washing will keep that siding looking good as new. You'll never have to invest time or money into repainting your home.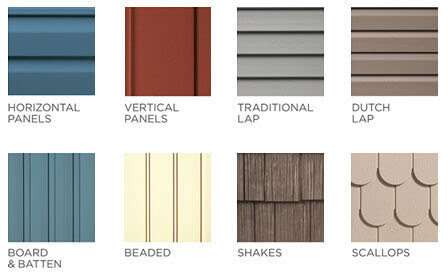 5. Energy Efficient.
Vinyl siding wraps your home with premium insulation and tops it with seamless steel. Together, they help reduce air infiltration to keep inside temperatures warmer in the winter, cooler in the summer, and more comfortable throughout the year.
For those in the Dalton or Fredericksburg, Ohio, area, Miller Custom Exteriors is proud to be a certified installer of ABC Seamless Siding and Seamless Gutters. We are also pleased to offer our customers several financing options for their home projects! We believe in the benefits of the products and services we provide, which is why we offer a 15-year product warranty with every installation and ABC's limited lifetime warranty on their products.